Published:
Thursday, 7 April 2022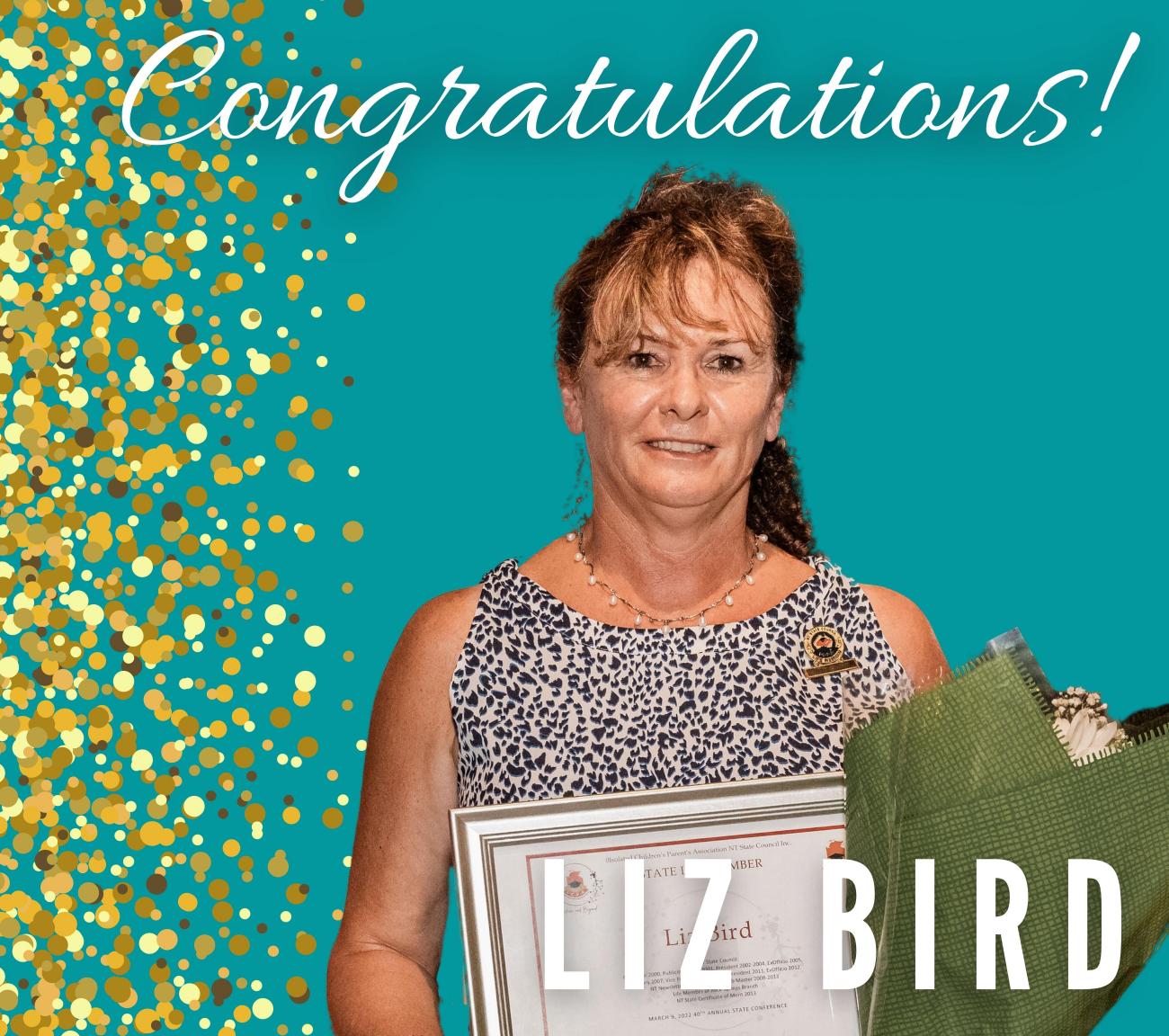 LIZ BIRD - ICPA NT STATE LIFE MEMBER
AWARDED 8 MARCH 2022 | DARWIN NT
NT State Certificate of Merit 2013

NT State Council:   Councillor 2000, Publicity 2001, President 2002-2004, Ex Officio 2005, Secretary 2007, Vice President 2008-2010, President 2011, Ex Officio 2012

NT Newsletter Editor 2000, NT Web Master 2008-2013

Alice Springs Branch Life Member
On the 8th of March, at the Gala Dinner following the 40th ICPA NT State Conference, Alice Springs Branch member Liz Bird was recongised for all her invaluable support, assistance, work and volunteering for ICPA NT, with an NT State Life Membership. Outgoing ICPA NT President Sarah Cook, along with our new President Moira Lanzarin presented Liz with her State Life Membership.
Liz joined the Alice Springs Branch of ICPA NT in 1997. She has been an active member ever since, including Branch President from 1999 to 2002.
The central Australian pastoral district, Alice Springs broader community and all rural Northern Territory families have benefited from Liz's Bird's long, sincere and note-worthy involvement in advocating for equity in education for children in the bush.
Liz is hard working, reliable, committed, and accessible. She meets her responsibilities with a level-headed, cheerful approach and never fails to respond when help, support or more hands are needed. Everyone in our community knows Liz as a passionate community leader, an excellent role model and mentor and a generous person who shares her time, experience, and guidance freely, including mentoring others in all aspects of community and not-for-profit roles.
ICPA NT is honoured to have Liz on our side and it was with great pride that she was made an NT State Life Member.
Congratulations Liz!