Published:
Tuesday, 26 September 2023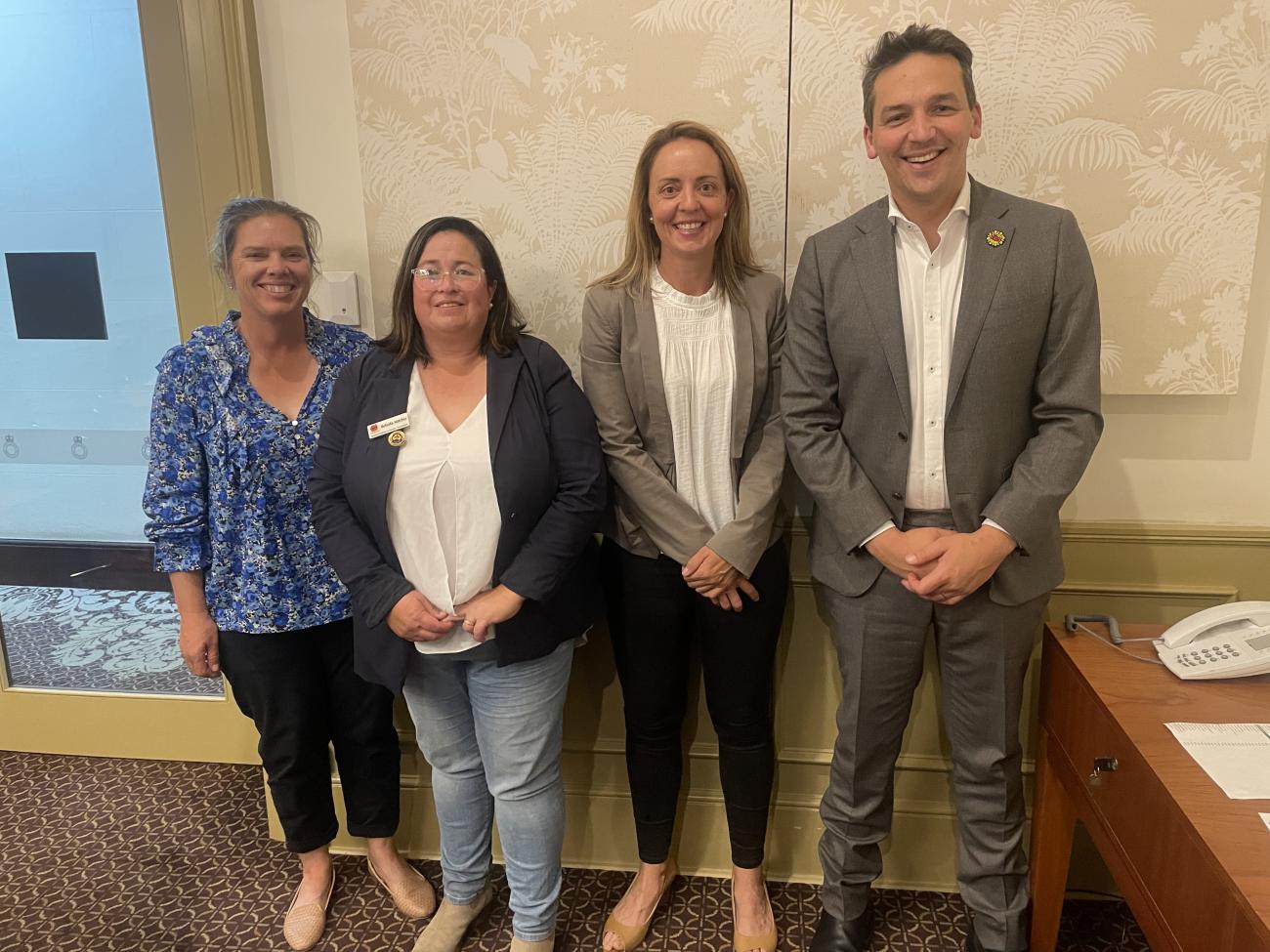 Image: Hollie Williams, Belinda Hatcher, Kirsty Williams and the Hon. Blair Boyer (Minister for Education) at Parliament House
The 2023 SA ICPA delegation provided host to much positivity and evidence of great working relationships with the different Stakeholders ICPA is involved with. Requests came from a number of our meetings including the Minister for Education's office, to have additional meetings throughout the year with SA ICPA which is encouraging.
Meetings kicked off in Port Pirie with Belinda Hatcher and Hollie Williams meeting with MP Geoff Brock. Geoff is keen to continue supporting SA ICPA where he can. Following motion letters being sent out, Geoff wrote to the Hon. Blair Boyer (Minister for Education) supporting our requests. The current state of many of our outback roads was discussed in detail with it being made clear that our roads require adequate maintenance. If members feel their road is needing attention, please call the Department Traffic Management Centre on 1800 018 313.
A further five meetings were held in Adelaide attended my Belinda, Hollie and myself. These included meetings with; Country and Family Health Service (CaFHS), Open Access College (OAC), the Transport Services Unit and the Strategic Policy and External Relations manager both at the Department for Education and lastly with the Minister for Education at Parliament House.
CaFHS were keen to hear where the gaps are evident and how they could further support our members. Whilst admitting to having some staffing shortages, CaFHS were very forth coming in wanting to work together to promote their services and support families. They asked that when members are making appointments to make mention that they reside rurally in the hope CaFHS offices will be more flexible and accommodating in making a suitable appointment time. A range of resources are available on the CaFHS website https://www.cafhs.sa.gov.au/ with support also provided through the parent helpline on 1800 364 100
The meeting with OAC principal Julie Taylor was somewhat relaxed given things are currently very calm and working well at School of the Air (SOTA), largely thanks to Lai Kuan Lim (SOTA Head of Campus) for streamlining and putting clear processes in place. A replacement for the previous Cert 3 course has been found using Tafea s the provider and it is hoped this will be available for supervisors to commence in 2024.
The new SOTA building was discussed with both OAC and the Minister and it seems this is moving ahead quickly with a proposed date for completion of early 2026. This will see SOTA be incorporated into the new RFDS building and whilst a smaller site than what SOTA currently has, is positive for the future of SOTA with new modern facilities.
A number of meetings involved discussion around teacher recruitment and efforts to retain teachers in rural areas. Whilst the country incentive no longer expires after 5 years for rural teachers, it seems greater measures are required. The need for the government to provide a larger pot of funding and support for teachers and SSO's to attend professional development is necessary to equip teachers/SSO's with the skills required to deal with the ever-increasing number of challenges in a classroom. Currently it seems that schools are not funded accordingly to provide the necessary training required.
A small win for SA ICPA was announced during our meeting with Minister Boyer indicating that he is committed to doubling the Road Transport Allowance (RTA) from $250 to $500/year and that a further review of this allowance is scheduled. A request to increase the State Education Allowance (SEA) was a recurrent topic across nearly all meetings and it was requested that the Minister also look to review this allowance to accommodate for the increasing costs associated with schooling secondary children.
Pleasingly the Minister indicated that he would look to put the need for a Distance Education Teaching Allowance (DETA) and an extension of the Assistance for Isolated Children (AIC) allowance to kindergarten children, on the national cabinet agenda providing representation on our behalf. It is vital SA ICPA keep voicing the need for such allowances and work to rectify other issues that make educating our children in the bush more challenging, so that we can continue to keep more families in rural and remote areas.