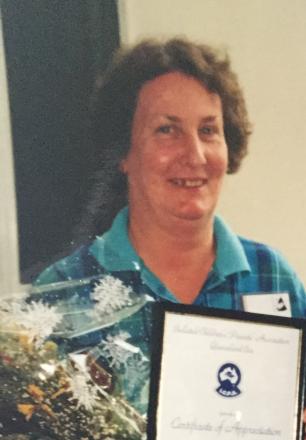 Background:
Zilla became a member of the Aramac/Muttaburra Branch in 1974.  From 1987 - 1990 she was the Branch President and was Secretary from 1992 -1994.  Zilla was Vice-President from 1990 - 1993 and during this time compiled four editions of the local Community Directory, a major fundraise for the branch.  In 1997, Zilla and her husband Peter, were honoured with Life Membership in recognition of their effort and the commitment shown to the branch and ICPA in general. 
Zilla was elected to Qld State Council in 1984 at the Longreach State Conference.  Zilla spent two years on the Committee before being elected as State Secretary in 1986.  Zilla was known as the ultimate perfectionist and no project was undertaken without thorough research and attention to every detail.  In 1987, Zilla (along with other Councillors) compiled an ICPA Information Booklet "I Can Provide Answers", which was an instant success and in 1990, with Elaine Lyons, Zilla produced a second edition.  In 1990 Zilla returned to the Committee and resigned from Council in 1992 after eight years of service.  
Zilla was awarded a Qld Certificate of Appreciation in 1998.