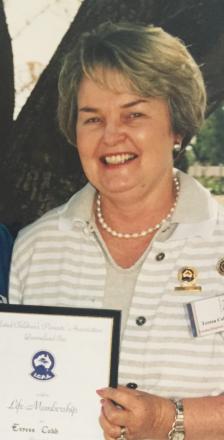 Background:
Teresa grew up in the Channel Country and was schooled via correspondence and boarding school, so she knew firsthand the problems facing rural families.  Teresa became involved in ICPA in 1971 when the Blackall Branch was formed.  Teresa was the motivator for the formation of three other Branches and was the inaugural President of both Tambo (1972) and Channel Country (1977) and her husband Mike was the inaugural President of Yaraka-Isisford Branch when formed in 1980.
Teresa was elected to Qld State Council in 1974 and during that time spent 4 years as a Committee member, 3 years as Secretary, 2 years as Vice-President and five years as President.  She remained on Council as a Committee member for another 2 years before she retired in 1994.  Teresa was also Federal Vice-President in 1991. 
Teresa's served on many committees and working parties during her time with ICPA, as well as attending as many branch meetings as she could to ensure that members were kept up to date and enthusiastic. 
Teresa was awarded Life Membership of the Yaraka-Isisford Branch in 1984 and a Certificate of Appreciation from ICPA Qld at the Winton Conference in 1995.  Teresa remained active within ICPA, taking on the role as ICPA representative on the Hospital Schools Advisory Council. Teresa was awarded her Life Membership of ICPA Qld at the Longreach State Conference in 1998. 
Mrs Zilla McAuliffe presented Teresa's retirement thanks in Cairns in 1991 with these words:
"During the years 1974 to 1991, Teresa has served 14 years on State Council as President, Vice-President, Secretary and Committee person.  All these highly responsible and demanding positions have been treated with the usual determination, tenacity and efficiency that people have come to expect of someone of Teresa's calibre.  In her tireless quest for access to and an equal opportunity for education for the geographically isolated, she strives to made GOOD, better, and BETTER best for these children."