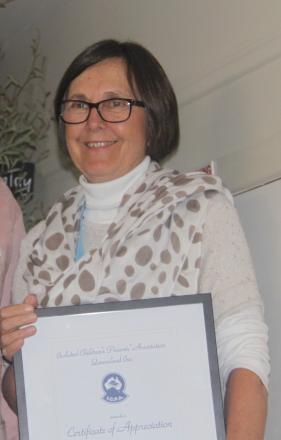 Background:
Liz was awarded a Qld Certificate of Appreciation in 2017 for her generous support of ICPA Qld which has enabled increased fundraising to support the continued lobby for our rural and remote children. 
Bush Christmas was born out of Liz's recognition that rural artisans needed an opportunity to showcase their talent from the bush that is rarely seen away from its origins.  The Bush Christmas Exhibition is held in Toowoomba at the end of November each year, growing from 17 exhibitors at its inception in 1997 to over 100 currently.  It has made steps toward bridging the gap between city and country and has opened many doors to a greater understanding and interest in the bush and its people.  Over the years Liz has offered the opportunity to different organisations to sell raffle tickets in prizes comprised of items donated by the artisans selling their wares.  In 2005, Liz offered ICPA Qld the opportunity to run the raffle for the organisation, Fundraising Officer Mary Killeen took her up on it and an ongoing partnership was formed.  
ICPA Qld is indebted to Liz for her generosity in allowing ICPA the exclusive right to run the raffle which is now a minor art union which makes considerable dollars each year for State Council.  Her support of ICPA Qld over the last 15 years is immeasurable with over $150000 being raised during that time.