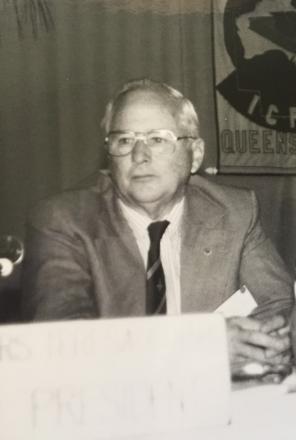 Background:
Motion from State Executive
Moved: Mr. L. Tindall                                      Seconded: Mrs. J. Gall
"That in recognition of his long and devoted service to the Isolated Children of Australia, Life Membership of ICPA Queensland be conferred upon Mr. E.C. Powne (Bunny) MBE, who, as Queensland President since the Association's inception in 1971, has made an outstanding contribution to education in country areas."
Bunny was presented with his Life Membership of ICPA Qld in Emerald in 1978 by Sir Alan Fletcher, a former Minister for Education in Queensland.  He is quoted as saying, "it has been a pride and a boast to know Bunny – we owe more to this man than we can repay – this little bit may be recognition of it, but it doesn't pay for half of it."
Bunny's interest in education and his concern for isolated children began during his term as President of the Bollon P&C, as he became aware that most children did not proceed onto further education after Year 7.  Following the formation of the ICPA in Bourke where he was elected Vice-President, Bunny called a meeting in Bollon to form a local branch.  In 1971 he was elected inaugural President of ICPA Qld, a position which he held for the next seven years.  He also held the position of Federal President from 1974 – 1977.  Bunny remained a part of Queensland Council, including a stint as Vice-President from 1982 - 1987, until he retired in 1989.  
During his term Bunny developed a wonderful understanding and cooperation between ICPA and the Queensland Education Department.  This involvement began with the introduction of the Priority Country Area Program (PCAP) and continued as a member of the Ministerial Advisory Committee to rationalise Living Away From Home Allowances for isolated children. 
Bunny was the first to see the potential of an Australian Satellite system and started the call for this in 1973, as it was obvious that a clear voice was essential for those whose only contact with a teacher was via the HF radio.  Bunny was a member of the Ministerial Advisory Committee on Distance Education which recommended the decentralisation of distance education. 
Bunny was the only member to hold Branch, State and Federal Life Memberships and in 1977 his achievements were acknowledged with the bestowal of an MBE for his dedication and valuable service to the community and local government.
"It goes without saying, I think, that Bunny will be sadly missed when he retires from the Executive of the ICPA (Queensland Council) after 18 years of service.  This is in no way meant as a reflection on those who will replace him in the future, but to acknowledge Bunny's unique and outstanding contribution to the education of isolated children here in Queensland, and throughout Australia generally.  To emulate that contribution in the years to come will be a very great challenge indeed. 
The Department has always valued Bunny as a colleague and as an ally in the delivery of educational services in Queensland, and has always respected his views, his commitment, his contributions and his support."
(excerpt from a letter written by Mr. R. Barry, Assistant Director-General of Education (Resources) in 1989 to ICPA Qld)