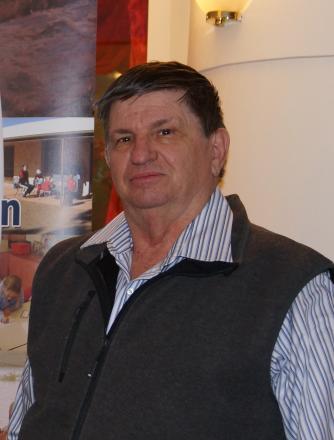 Background:
Jeff Little has had a long association with ICPA long before he became the ICT Advisor for Queensland State Council in 2009.  Jeff started work in 1964 at the Post Masters General's department as a technician and then went on to work for Telstra and his family lived in various rural locations including Cloncurry, Dalby, Coen and Cunnamulla. It was here in Cunnumalla in 1985 that Jeff attended his first ICPA State Conference as the Supervising Technician for Telstra providing a quantity of DRCS phones for members to test to their full capacity - which they did and provided Jeff and Telstra with valuable feedback on how they could be improved before they officially rolled out.  
Jeffs roles within Telstra included Rural Communications Specialist with Telstra Queensland Country and in 1994 Telstra formed the CAN Electronics Management Centre where Jeff established the Quality Service Visit where technicians were trained especially for rural and remote telecommunications issues.  It was in this role that Jeff attended his first Federal Conference in Broome in 1995. During his time,  Jeff set up the Radio Management centre and at a State Conference in Longreach Jeff announced that 18000RRADIO had commenced operations.
During the early 1990s Jeff also did a lot of work around Distance Education students moving from HF Radio to the radio telephone network which made such a difference to so many rural families.
Jeff's appointment as Area General Manager of Telstra Country Wide Southwest Queensland in 2000 provided him with a high level of autonomy and this structure allowed Jeff's lateral thinking to provide communications solutions to hundreds of rural and remote subscribers. His first-hand knowledge of people's situations has been paramount in the development of workable solutions to problems. Jeff retired from Telstra in 2009.
It was after his retirement that he was approached by Andy Pegler, then Communications Portfolio leader, to attend a communication meeting at delegations in Brisbane in 2009.  Jeff and his wife Marilyn also joined Yaraka/Isisford Branch that year.  Shortly after Jeff formally became the ICT adviser to Queensland State Council.
Jeff not only had a good understanding of the technicality of issues, but he was always prepared to go the distance to be part of the solution.  He was held in high regard by the DoE IT Team who had enormous respect for his abilities and commitment.
After the debacle of the Interim Satellite, ICPA Qld lobbied for dedicated data capacity specifically for education on the Skymuster system.  NBN responded favourably to this request and provided priority use for education which became the known as the Ed Port. Due to a legislation issue, Education Queensland could not complete the approval process for distance education families needing access to the Ed Port.  Jeff spent weeks compiling and cross-checking data to enable families' timely connections to the Ed Port. This was a huge task and directly benefited the education of so many rural children.
In Jeffs 13 years with State Council he only missed one State and Conference, actually since 1998 Jeff has only missed two State Conferences.  Jeff stepped down from the role of ICT Adviser at the start of 2022.  Our kids' education is all the richer for having Jeff and his great wealth of knowledge on their side and we thank him for his commitment and dedication.