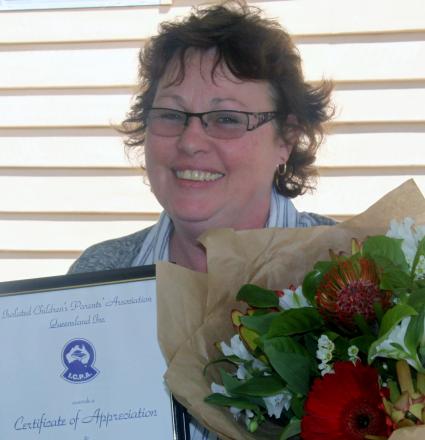 Background:
Carmel was appointed as the Qld ICPA Webmaster in a Council meeting in Charleville in July 2002 and brought much needed technical knowledge and ability to State Council.  Carmel was elected to ICPA Qld State Council as Assistant Secretary later that year in Atherton, a position she held until retiring in 2005.  She continued in her role as Webmaster until 2007.  Her knowledge of all things technology ensured she was popular amongst Councillors and more, with many people often ringing Carmel to solve their computer issues. Along with Sharon Tindall, Carmel spent three years purchasing and setting up nine new laptops, kindly donated by the Towner Brothers, which enabled State Council to move into the next era!  She also developed the conference registration form enabling it to be available on the web.  During this time, Carmel also moved the faxed Branch Briefings onto email, assisted with the proofreading of the conference minutes and making them and the Branch Blue Folders available on disc.  Carmel also worked as the Federal Website Manager during this time from 2002 to 2010.  
Even after retiring, Carmel has continued to spend time assisting wherever possible and often helping with the running of the Bush Christmas Art Union in Toowoomba each year. 
Carmel is remembered fondly on State Council for the many pranks she would play on fellow Councillors and many are confident that the transition of ICPA into the modern era would not have happened so smoothly without her!  
Carmel was awarded a State Certificate of Appreciation in 2016, a Federal Certificate of Appreciation in 2011 and Southern Downs Branch Life Membership in 2019.