Welcome to the North Burnett Branch!
Greetings from the North Burnett Branch !!  Our branch is found on the western edge of South East Queensland and encompasses members from Eidsvold to Biggenden. We have over 25 families and a wonderful diversity of members.  Originally known as the Eidsvold-Cracow Branch and founded by life member June Hartwig.  Today we rotate our meetings and try to incorporate it into a family day so children, husbands and girlfriends can have a day of networking, fun and discussion around the issues we face for rural education.  Even though our branch is not as geographically large as many out west we have a diversity of families from those doing distance education, many small schools with most going onto boarding and Tertiary educations. Our members are very grateful to the state executives and the portfolio reps who lobby for better equity in education for our bush kids and soon to be rural leaders. 
Early 2021 we celebrated the induction of two new life members Christene Sloss and Denise Hartwig. 
The inaugural meeting was held on the 18th February 1979, at a place called Cains Corner which is halfway between Eidsvold and Cracow. It is simply a place beside the road full of dirt, dust and bush, but it is recalled with fondness by the inaugural members.

Here it was decided to call the new branch the Eidsvold/Cracow Branch. Many later meetings were held at Cains Corner and stories abound of dusty minutes and even an unfortunate dingo who donated his scalp for the good of ICPA, and for this we still have a receipt!!

Over the years Eidsvold/Cracow ICPA has sent delegates to several Federal Conferences and many State Conferences. Jacqui Lindenmayer and Ness Bambling were the last delegates to attend a very chilly conference in Charters Towers. It was a wonderful opportunity to see the effectiveness of a state meeting in action and we encourage and support any of our members to attend. 
Please feel free to support our annual Pie Drive  :-) 
We welcome new members to our branch so please get in contact with one of us. We would love to meet you and your family.   If you have any queries or need any information or help lobbying for improvements etc please contact us. There is a wealth of information on the website ! 
New Branch Executive Elected
At our recent AGM a new Branch President was elected.  
Welcome to our incoming President Hayley Gault Ahern and farewell to Juanita Birch, our outgoing President.  Ness Bambling and Trudie Payne remain as Secretary and Treasurer respectively.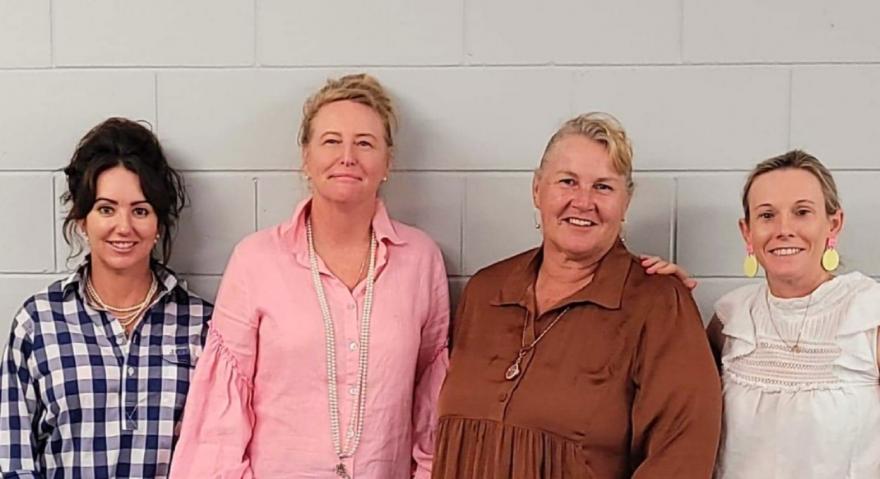 Branch Executive
Branch Mentor