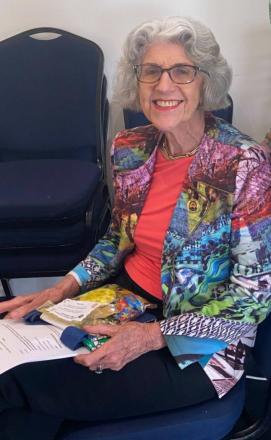 Background:
Mrs Patricia (Trish) Mitchell O.A.M. commenced her involvement with ICPA in 1973 as the inaugural President of the Augathella (Qld) branch.  She had heard of ICPA through the radio and felt it would help solve some of the frustrations she felt as an isolated home tutor and parent!  Trish also became the first Secretary of the Charleville School of the Air Branch and when she moved to Cloncurry became President of the Cloncurry Branch.  Trish became a State Councillor for Queensland in 1977 and was elected to Federal Council in 1982.  As the first female Queensland President (1982 – 1986), Trish also became the first female Federal President concurrently in 1985 and continued in this position until 1988, then the role of Immediate Past President until 1991. 
Trish was awarded Life Membership of the Cloncurry Branch in 1987 and a Certificate of Appreciation by Qld State Council in Cairns in 1992. 
Trish's commitment to the education of rural and remote children was acknowledged when she was invited to be a Commissioner for the Commonwealth School Commission – a role which she undertook from 1986 to 1988.  She was also a member of the Steering Committee for Schooling in Rural Australia and the Catholic Education Commission Committee in 1986.  Trish was invited to represent ICPA at the official opening of new Parliament House in Canberra in 1988 which is one of her fondest memories.  She holds a Certificate of Appreciation and Life Membership from Qld and was presented with a Federal Award of Merit in 1992. 
Even after stepping down from her role on ICPA, Trish continued to support rural and remote students in other areas, becoming Vice-President of the Arts Council of Australia in 1993 and President of Regional Arts Australia from 1994-2000.  As a direct reflection of the high esteem in which Trish was held in her role with ICPA, she was appointed to the Council of the Australian War Memorial from 1997 – 2004. 
Trish was awarded the Medal of the Order of Australia General Division (OAM) in 1996 for her service to rural education and the arts and Life Membership of ICPA Australia in 2019. 
When asked what she has done since retiring from active involvement in ICPA, Trish generally answers, "more of the same!"  She continues to advocate passionately for equity of access to education for rural and remote children in her position as Patron of ICPA Qld.  Trish represents the organisation at State functions as well as through her presence at State Conference each year, chairing the AGM during the election of Office-bearers. Trish remains a staunch supporter of the education of geographically isolated children and her knowledge and experience is both admired and respected within the ranks of ICPA Qld State Council.