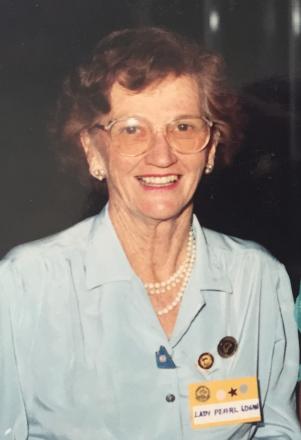 Background:
Pearl worked for the welfare of isolated children and their families long before ICPA began, as a stalwart of QCWA, the Royal Bush Children's Health Scheme and on the Education Committee of the National Party.  The birth of ICPA gave her the perfect cause to continue her interest. 
Pearl was the inaugural President of the Richmond Branch from 1971 - 1974.  She was a major influencer in the creation of many northern branches of the Association, attending their meetings, giving assistance and advice as well as acting as their proxy at numerous State and Federal Conferences.  Pearl also served as a Federal Committee member from 1972 - 1978 and received a Federal Certificate of Appreciation in 1980.  
Pearl joined Queensland State Council as a committee member in 1973 and became Vice-President in 1974 until 1982 when she retired from the executive scene.  At the height of the drought, with many children being withdrawn from boarding schools and returning to correspondence lessons, Pearl took up the cause of the Secondary Correspondence curriculum.  She was also influential in gaining permission for the newly formed Cairns Radio Branch to use RFDS Base facilities for their meetings and she spoke to those members on the air.  
Pearl's unfailing loyalty to isolated children and their families continued through all her activities and she was awarded an MBE by the Queen in 1975 whilst still serving on both Councils for "notable services in assisting children living in remote areas and for community service."