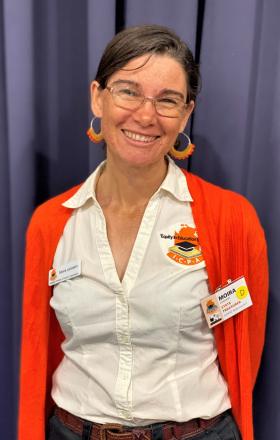 State position:
NT Lone Member Officer / NT Public Officer
Branch:
Portfolios:
Mentor for:
Background:
2021 will be Moira Lanzarin's 2nd term on ICPA NT State Council and continuing as Treasurer.
Whilst Moira is relatively new to ICPA NT, ICPA has always been part of her life. Her mother, Clair O'Brien, is a Life Member of the ICPA Far North Queensland Branch and was on both State and Federal Council advocating on behalf of her 4 children, and remote children everywhere; educated via small schools, School of the Air, Correspondence and Boarding School. The same challenges remain pertinent.
Moira lives at Coodardie Station, Mataranka with her husband, their 2 sons and her extended family. She is a modern farmer: combining 4th generation cattle breeding heritage, a lifetime of practical knowledge and love of the land with tertiary studies in Business Law, Diploma of Company Director plus is an internationally accredited educator in Holistic (Regenerative) Management.
Despite involvement in school, community and industry organisations at all levels (local, state, federal and international), ICPA has always been seen by the family as a benchmark for good process and advocacy.