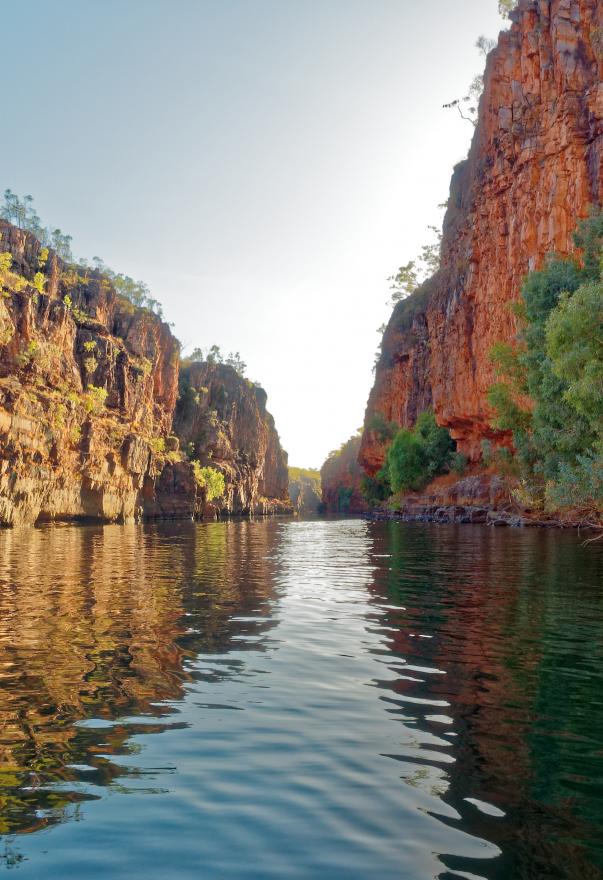 ICPA NT Katherine Branch
The Katherine Branch was formed in 1978 and since then has actively assisted families to ensure that our children have access to an education that best meets their needs and circumstances. At present, we have fifty members, six of whom are also on the NTICPA State Council. Most of our members are families of Katherine School of the Air while other members reside in small communities or in the rural areas outside of Darwin. The branch is an incorporated association and is a totally voluntary organisation.
The core business of Katherine Branch ICPA, as with ICPA branches all over Australia, is to seek equity of access to educational opportunities for rural and remote students. To this end the branch keeps members up-to-date with educational issues at a local, state and federal level, assists members to participate in conferences and lobbying opportunities, and offers financial assistance to children and students in the form of grants and bursaries. Katherine Branch ICPA was instrumental in obtaining the provision of accommodation for bush students in Katherine. Callistemon House, now administered by the Dept of Education, allows students to board and attend Katherine High School or St Joseph's College.
Over the years fundraising to support the branch's activities has largely consisted of catering for functions, auctions and raffling of donated goods. We have developed partnerships with local businesses such as Landmark. ANZ, Bendigo Bank, Zoetis Australia, RABO, Olssons, LNT and Stocklick Trading have also provided valuable support and sponsorship in recent years. The branch also administers a bequest from long-time friend of ICPA Katherine Branch, Val Utley. Katherine Branch organises a Biggest Morning Tea during Inschool in June in memory of a dedicated and hardworking member, Carol Armstrong and proceeds go to the Cancer Council.
Currently, the Katherine Branch of Landmark organises an auction at the Katherine Show or sells donated goods through their merchandise store. Due to their continued and generous support, ICPA Katherine Branch is not only able to fund members to attend State and Federal Conferences, but can also offer financial assistance to families through several grants and bursaries.
Most grants and awards require families to have been members for at least one, sometimes two years. Members receive email notification when grant and award entries are open, along with information on closing dates and entry criteria.
Nutrien Boarding School Grant
This is a yearly grant to assist members with the costs associated with educating children via boarding away from home, at a registered boarding school facility.
Eligibility of Applying for this Grant:
Must be an ICPA member for a minimum of two (2) full years and a current Katherine Branch Member.
Must be transitioning or currently studying in Middle or Senior Years.
Student must be studying full time and under 18 years of age.
Student must reside in a rural/remote area and be eligible for AIC.
Must be an active member. Ie attend meetings regularly, assist with fundraising activities etc.
The grant applications close on the 31st of October each year. 
If you wish to apply for this grant please contact the Vice President of the ICPA NT Katherine Branch via the links in the "Our Team" tab above.
Personal Development Grants
Available to pre-primary children and all students, from Primary to Post-secondary.
Grants are to assist families with costs associated with activities related to personal development of the child, for example, Sport, Music, Drama, Excursions, Art and Craft. Eligibility criteria apply. The grants are advertised in Term 2 and presented during Inschool in June.
Val Utley Memorial Awards
This Award is sponsored by the Utley family and is available to all Members' children, seventeen years and under. The Award recognises, encourages and supports rural and remote NT youth in various endeavours, such as travel, enterprise, courses and educational or medical expenses. Eligibility criteria apply.
 Royelene Hill Art Competition
Open to all members' children, KSA and NTOEC students. Judged during Swim Week Term 4 in Katherine and presented at the KSA/MYSOA Christmas Concert.
Katherine Branch face-to-face meetings are held during KSA Inschool in June and KSA Swimschool in December (AGM). Two to four teleconference meetings are also held throughout the year.
All interested persons are invited to join the branch or association. Simply forward your membership fee of $50 along with your name and address to branch Treasurer Fiona McDonald or Assistant Treasurer, Helen Harding.
Follow us on Facebook to keep up to date with all the activities that Katherine Branch are involved in such as sports camps, auctions and much more.  Click on the link below and ensure you like the page to keep informed.
Branch Executive
Branch Life Members