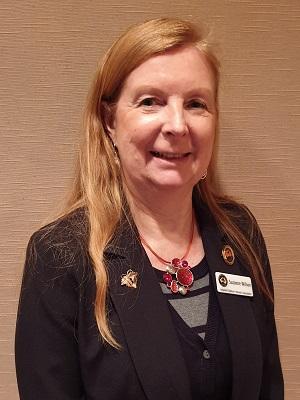 Federal position:
Branch:
Portfolios:
Background:
Suzanne and her husband Michael, live in Darwin's CBD, NT. They have four adult children and 4 grandchildren.  She has always been a strong supporter of ICPA for many years attending both state and federal conferences before joining the NT Lone Members Branch a few years ago. In 2017 she decided to support ICPA further by taking up secretarial roles at both Federal and State level in the same year. Presently Suzanne holds the position of NT Vice-President and Federal Secretary.
Suzanne immigrated from England to Australia in 1983 and has lived in several states/territories, both in cities and remote parts of Australia. She has been active in adult education both in the VET sector and at university level, having worked for a Registered Training Organisation (RTO) as a Course Co-ordinator and as a university lecturer at Charles Darwin University, Darwin, NT.
She completed her Masters of Business Administration (MBA) in 2004 and puts her skills learned into running the small company she owns with Michael, M & S Consultants Pty Ltd. Their company specialises in Distance Education software used for Interactive Distance Learning (IDL).
Suzanne has worked on various committees both as member and office bearer and has also been the Social Co-ordinator for her large apartment complex to bring neighbours together for some fun times.
In her spare time, she enjoys cooking, playing board games and trivia quizzes. She also enjoys the great outdoors through long drives across Australia, camping, sailing and fishing.