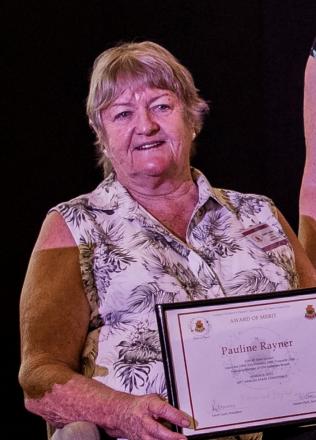 Background:
NT State Council:  Councillor 1984, Vice-President 1985, Treasurer 1986
Founding Member of Katherine Branch.  Instrumental in the establishment of KICS (Katherine Isolated Children's Service 1988) travelling playgroup, Katherine Rural College, and Callistemon Boarding House (est. 1997 Katherine). Prior to that Pauline provided private boarding in her home so that isolated children could attend Katherine secondary school. 
Pauline Rayner is a name that will be known to many in ICPA, and her contribution to our Association is amongst the efforts of so many unsung heroes in the history of Northern Territory ICPA.
Pauline, a former remote area student herself, has been involved in "battling" for geographically isolated students for years prior to our inception - a skill she brought to us. She and her husband , Ernie, were instrumental in spearheading boarding facilities in Katherine, firstly opening their home, 40ks. from Katherine for to up 13 students to enable them to attend Katherine High School. As the demand grew, she was involved in the establishment of Katherine House - now Callistemon House.
Pauline was primarily involved in a the advent of Katherine Isolated Childrens' Services (KICS) and Volunteers for Students Education, (VISE) before the imput of the ICPA.  And no surprise, in the establishment of the NT Rural College outside Katherine now a campus of Charles Darwin University.
Pauline has continued to support, give valuable advice from branch to state levels, positions where she always gave 100%.