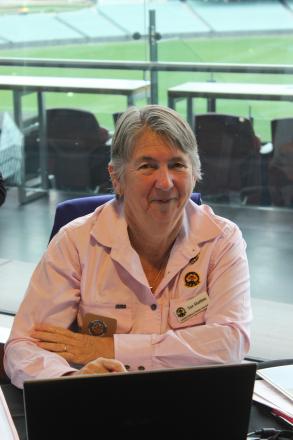 Background:
ICPA Awards
2018            Presented with ICPA Australia Award of Merit - 2 August
2021            Presented with ICPA Australia Life Membership - 3 November
About Sue Shotton
Sue Shotton served on the ICPA Federal Council for 6 years, from 2008 until 2014, and held the position of Treasurer for 2 years.
Since retiring from Federal Council, Sue Shotton has been instrumental in the establishment and maintaining of the ICPA website and has for a number of years assisted  Federal Council, State Councils and branches to establish a website that reflects those  groups' individual needs but also remains uniform and consistent with ICPA goals. Sue has worked tirelessly to ensure the website is secure, modern and utilises as many tools  as possible to engage ICPA members.
Recently, Sue has committed herself to assisting with the development of an online membership system to offer ICPA members a method to renew their memberships or join ICPA directly from the website, as well as to allow for more efficient, quicker and smoother membership transactions. Sue has gone above and beyond the expectations of Federal Council in her role as Web Manager and she has continuously made herself available to Federal Council, State Councils, Branches and members who have had questions regarding the new online process. Sue has provided numerous documents, explanations and information to create an understanding at all levels of ICPA regarding the online membership. She has spent many hours in the process of explanation and exploration of ideas so that no stone has been left unturned as Federal Council worked towards online membership being available for members.
Sue has also made herself openly available to all State and the Federal Web Masters and assists them frequently with their work on the various areas of the website.
In addition to her work around the website and online membership, Sue has also volunteered her time at Federal Conferences and assisted Federal Council. At the 2017 Federal Conference, Sue took on an AV assistant role and set up AV for presentations, motions and portfolio reports and assisted the AV person at the conference with the numerous PowerPoint presentations, slides, videos and other technological wonders that helped make Federal Conference more engaging. She is also doing so again at this year's conference.
Given the extraordinary commitment, time and dedication that Sue Shotton has demonstrated in her assistance of Federal Council as well as State Councils, branches and members, it is with great pleasure that we present Sue Shotton with the Federal Award of Merit.