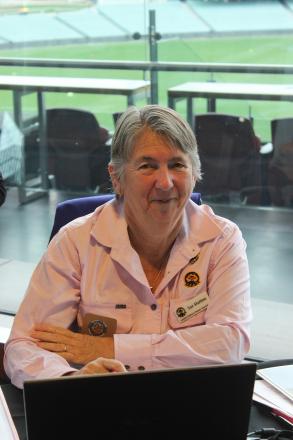 Federal position:
ICPA Web Manager
Branch:
Background:
ICPA Awards
2018            Presented with ICPA Australia Award of Merit - 2 August
Since 1987 I have lived on a semi-remote agricultural research station in the Douglas-Daly district of the Northern Territory where my husband, Peter, works in agricultural research.  We have two daughters, both young adults now, who did all their schooling from the confines of the station, either in the local one teacher primary school (Transition to Grade 7) or at home (preschool and then Grade 8 to Grade 12).  Our schooling challenges were featured in Chapter 13 in Paula Heelan's Outback Governesses.  A good read if you haven't already read it as it describes remote education in all different circumstances.  My previous work as a nurse did little to prepare me for distance education and especially distance education at a senior level.  Twas quite a challenge but after 11 years I think I might have mastered it.
My active life with ICPA commenced at the NT State Conference in 2009 when I was elected onto State Council as Assistant Secretary. I nominated as I felt there was little representation for the Top End on the NT State Council at that time.  Likewise later that year at Federal Conference in Hobart I, once again, put my hand up for a role on Federal Council as there had been no representation from the NT in a few years. As the delivery of education and living conditions are vastly different in the NT compared to the remote areas of the Eastern seaboard this representation is extremely important to ensure all isolated and remote children benefit from the decisions made at a Federal Level.  I am pleased to say the NT has been represented every year since then.
I have worked on both State and Federal level for a number of years in varying roles. My main contribution with NT State Council has been through the role of State webmaster.  I remained on Federal Council until 2015 and held the role of Councillor, Vice President and Treasurer.  During this time I also held the role of Federal Webmaster which eventually merged into the position of ICPA Web Manager, which I currently still hold.  During this period I have assisted with the introduction of the online payment system, a major refurbishment of the website to create a website for each state and more recently the creation of a totally new website.  This is been a huge learning curve for me but what an experience it is to learn about technology, especially when it relates to the education of our children.  This has allowed me to assist Federal Council in the running of conferences and to be the tech head who has mini heart attacks when technology goes wrong in front of a huge enthusiastic crowd.
The highlight of my time with ICPA was being awarded a Certificate of Merit in 2018 in appreciation for outstanding and valuable services to ICPA (Aust).  A very humbling experience.
A take home message from me to any members of ICPA would be, "A busy person always finds time for more things and there is nothing more important than ensuring remote and isolated children have access to a quality education just like their urban counterparts.  The changes are slow and might not benefit your children directly but it will benefit the next generation."