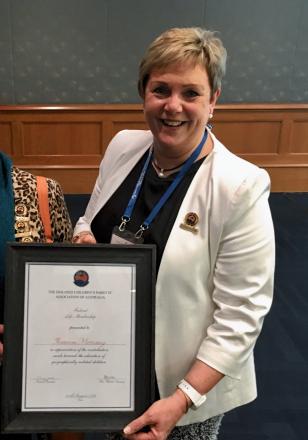 Background:
Federal Council
Committee                                                    01 Aug 2003 - 10 Aug 2007
President                                                      10 Aug 2007 - 12 Aug 2011
Immediate Past President                           12 Aug 2011 - 30 July 2015
WA State Council
Vice President                                             2000                                  
WA President                                               2001 – 2003                    
WA Immediate Past President                     2004                                 
WA Webmaster                                            2005 to 2007                   
Yalgoo Branch
Treasurer                                                     
ICPA Awards
2016      Presented with ICPA Australia Life Membership at the Perth conference on 1st Aug.
About Roxanne Morrissey
When focusing on an organisation's future it is essential to recognise the very special people who not only dedicate their time to our organisation but go well beyond what members consider the norm, to maintain our image as a progressive, professional and well-presided Association.
Living and running a sheep station with her husband Tom at Thundelarra in the Murchison area of WA saw four children raised and educated on Meekatharra School of the Air for their primary schooling. Being teacher trained it was only natural that Roxanne would fill the role of home tutor for those 12 years of distance education.
Roxanne joined her local Yalgoo branch in 1985 where she has taken on various executive positions. In 2000, Roxanne went onto WA State Council, firstly as Vice President and the next year, taking on the role of State President.
In 2003, she joined Federal Council at the conference held in Hobart Tasmania. It was at the Adelaide SA conference in 2007 that Roxanne was elected President for four years and then remained on council for the following four years as Immediate Past President.
While Roxanne's time on Federal Council is significant her dedication and generosity to the organisation has been invaluable. Through her leadership and the high standards she has set over the years, there has been an enormous number of documents produced in relation to all things connected to rural and remote education in the name of ICPA.
Roxanne's willingness to share her knowledge on all portfolio areas have seen her work with many councillors over the years. Her interest in technology has led to her involvement in two of the redevelopments of the ICPA website. 
Her knowledge and love for politics was shared with all and often meant we were well placed to act on or react to issues as they came up. While the historical aspect of ICPA was extremely important to Roxanne, she also recognised the need for change to ensure our organisation remains relevant and valued by members.