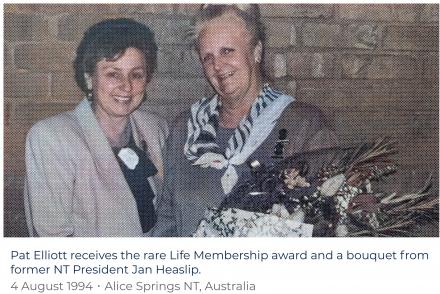 Background:
ICPA Awards
1994            Presented with ICPA Australia Award of Merit - 4 August
During the 1994 Federal Conference, President David Houston called on well-known NT ICPA member, Mrs Pat Elliott from Katherine, to accept an Award of Merit for her dedicated involvement in ICPA in the interest of isolated children. 
This was followed later in the day by the prestigious award of Life Membership of the Isolated Children's Parents' Association of Australia.
Pat was the fifth ICPA member to receive this honour and it was with great pleasure we offered our congratulations and warmest wishes.