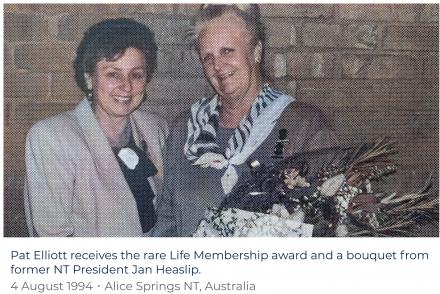 Background:
Member of the Order of Australia  2018
Federal Council
Committee                                     30 July 1981 – 17 July 1986
Committee                                     28 July 1988 – 30 July 1992
NT State Council
President                                        1989-1990
Katherine Branch
Founding Vice-President                1979
President 
ICPA Awards
1988            Presented with ICPA NT Life Membership (first person honoured with this in NT)
1994            Presented with ICPA  Australia Award of Merit
1994            Presented with ICPA  Australia Life Membership
Other Distinctions
1989            NT Women's Fellowship Award
About Patricia Elliott AM
During the 1994 Federal Conference, President David Houston called on well-known Northern Territory ICPA member, Mrs Pat Elliott from Katherine, to accept an Award of Merit for her dedicated involvement in ICPA in the interest of isolated children. This was followed later in the day by the prestigious award of Life Membership of the Isolated Children's Parents' Association of Australia. Pat was the fifth ICPA member to receive this honour.
Pat became a member of Federal Council in 1981 and has represented the Association on a number of committees. She has worked on and presented numerous papers, submissions and reports, and while holding the curriculum portfolio she initiated, presented and had accepted a policy on core curriculum for ICPA of Australia.
She retired from Federal Council in 1986 and was re-elected in 1988, remaining until 1992 when she did not seek re-election.
Pat has also been very involved at State level, beginning as the foundation Vice-President of the Katherine Branch in 1979, and held the position of President for some years as well. She has been an enthusiastic member of the NT Council of ICPA where she held the position of State President in 1989-90. In 1988 she was awarded the first Northern Territory ICPA Life Membership. Pat has been heavily involved with Volunteers for Isolated Students' Education (VISE), and responsible for getting it up and running.