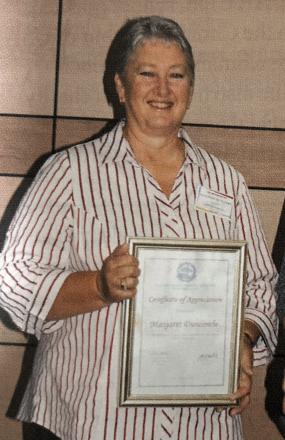 Background:
Federal Council
Federal Treasurer                                  27 July, 2001 – 5 August, 2010
Federal Assistant Secretary                  11 August, 2006 – 1 August, 2008
ICPA Awards
11 August, 2011                                     Presented with ICPA (Aust) Certificate of Appreciation

There are people who assist ICPA in many ways, in various capacities and sometimes they even get a title to make all their work official! Sometimes though these same people go far beyond what the workload associated with their title entails and do the things they do, simply because it helps the organisation.
Margaret Duncombe was the ICPA  Australia Federal Treasurer doing a couple of 4-year stints in that role as well as Assistant Secretary for a time in between. Margaret came onto Federal Council in 2001 and remained until she stepped down at conference in 2010.