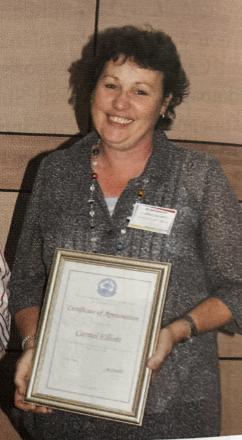 Background:
Federal Council
Website Manager                                  2 August, 2002 – 5 August, 2010
Federal Councillor                                12 August,  2011 – 9 August, 2012
Federal Treasurer                                 9 August, 2012 – 8 August, 2014
ICPA Awards
11 August, 2011                                   Presented with ICPA (Aust) Certificate of Appreciation
6 September,  2016                              Presented with  Qld ICPA Certificate of Appreciation
12 May, 2020                                        Presented with Branch Life Membership
There are people who assist ICPA in many ways, in various capacities and sometimes they even get a title to make all their work official! Sometimes though these same people go far beyond what the workload associated with their title entails and do the things they do, simply because it helps the organisation.
Carmel Elliott was ICPA's first Web Manager from the early 2000s. She was responsible for making sure the web site operated as it should and provided training to the State Web Masters. Carmel oversaw the development and implementation of the ICPA website until she stepped aside in 2010.