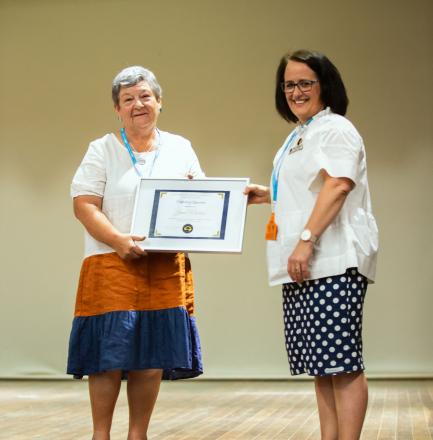 Background:
Federal Council
Committee                                 10 Aug 2012 - 13 Dec 2012
Secretary                                   14 Dec 2012 - Aug 2017
Assistant Secretary                    Aug 2017 - Aug 2019
Committee                                  Aug 2019- Aug 2020
ICPA Awards
3 November, 2021                      Presented with ICPA (Aust) Certificate of Appreciation
Jane Morton served on ICPA Federal Council for 8 years after being initially co-opted to Federal Council at the post-conference meeting in 2012 as a councillor, then co-opted again in December 2012 as Secretary. At the Federal Conference in Glenelg 2013, Jane was elected Secretary and served for 4 years, elected Assistant Secretary from 2017 to 2019 and councillor for one more year, stepping down from Federal Council at the Virtual Conference in 2020.
It is hard to ensure the worth of Jane is fully captured and to show completely her many attributes, skills and knowledge throughout her time on Federal Council that we are so appreciative of and Jane went above and beyond what is expected. She did this always, no questions asked and with a smile.  Her trademark "no worries mate" and "we'll get there" will be forever etched in the minds of the Councillors who worked with her. And who can forget her Slim Dusty "G'Day G'Day" ring tone which we were all witness to at the Alice Springs Conference in 2017.
Jane was always available on the phone, via email or texts for fellow Councillors, members, state councils, branches and outside organisations, departments and Government and has continued this following her stepping down from Federal Council. She was an invaluable mentor for councillors in Secretary and assistant Secretary roles. 
Jane has always been patient and approachable, always made time to  help anyone no matter how small or large the task, knowledgeable and would ensure understanding without question or judgement. Jane always maintained a high standard of skill in every aspect of her Federal Council work. She is methodical, has her finger on the pulse, is IT savvy, a driver for change, encouraging, professional and always willing to put her hand up to help, or start tasks,  plus a meticulous editor regardless of what she had on in her own position or portfolio.
Jane extended all of this to everyone on Federal Council, but also to members, branches and states councils. Jane's contribution, commitment and dedication to ICPA was unwavering and is continuing with her support of BBB branch and her help with the 50th year ICPA book.
This nomination of Jane Morton for Certificate of Appreciation is in recognition of her tireless support and assistance to ICPA while a part of our Federal Council but which has also continued since her retiring from formal ICPA roles.
Thank you Jane and congratulations.