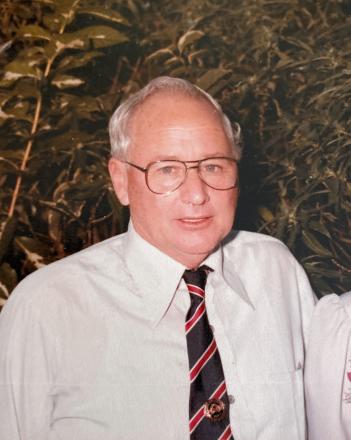 Background:
Federal Council
Vice President                                             02 Oct 1971 – 20 July 1974
President                                                     20 July 1974 - 14 Jun 1977
Immediate Past President                           14 Jun 1977 - 12 July   1979
Committee                                                  12 July 1979 – 29 July 1982
Federal ICPA Publications
First ICPA Booklet                                        02 Oct 1971 – 02 Jun 1978
Pedals Editor                                               1971 – 1981 First Edition
Qld State Council
President                                                      02 Nov 1971 – 06 Oct 1978             
Executive Officer                                          06 Nov 1978 – 09 Oct 1980
Committee                                                    09 Oct 1980 - 03 Sep 1982
Vice President                                              03 Sep 1982 – 22 Oct 1987
Committee                                                    22 Oct 1978 – 06 Oct 1989
ICPA Awards
1978      Presented with ICPA Qld Life Membership at Emerald Qld on 6 October.
1984      Presented with ICPA Australia Life Membership at Federal Conference in Townsville, Qld on 19 July.
1986      Presented with ICPA Bollon Branch Life Membership
Other Distinctions
1976      Awarded an M.B.E. by Queen Elizabeth II
1977     September 1988 Patron of Charleville SOTA P & C Association
PRESENTATION OF FEDERAL LIFE MEMBERSHIP TO MR E C POWNE MBE BY MRS TONI RIDGE at the 1984 Federal Conference in Townsville.
Mr Chairman, distinguished guests, ladies and gentlemen. Bunny is a name synonymous with ICPA. The dictionary states that Bunny is a pet name for rabbit, which is a little furry animal with bright eyes and a bushy tail. Bunny is perhaps losing a bit of fur, but he is still bright-eyed and bushy tailed. Bunny was born in Charters Towers, which is not far from Townsville and it is very fitting that we are honouring him here today. In four weeks, he will celebrate his 55th Birthday. He was educated through correspondence school and then at Toowoomba Grammar School where he said his sporting achievements far outweighed his academic ones. After jackerooing at Boonooke Stud in NSW he returned to manage the family property until 1958, when he and Eileen moved to Bollon to establish a service station and petrol depot. At one Conference a Deputy Director-General of Education (suspecting that we were all rich graziers) remarked to Bunny, "And I suppose that you own a station somewhere in Queensland too", to which Bunny replied, "Yes, a service station in Bollon."
Bunny and Eileen have three children; Peter, who is helping run the family business at Bollon, Sue, who is working at the Multicap School in Toowoomba and Ian who is still boarding at Toowoomba Grammar School.
Bunny has always been interested in local community affairs. He has served 17 years on the Bollon Shire Council and 13 of those as Deputy Chairman. He has represented that Shire on the South West Regional Library Board and is also Chairman of the State Emergency Service in that area. He is a member of the Queensland Intersystemic Parents Committee which was formed in 1980 and he represents people who are forced to board their children away for secondary education. Bunny was also a member of the first management committee of DCAP in Queensland and I recall him attending the first DCAP public meeting in Australia in Bourke in 1976. After a very controversial session, a NSW district inspector, (not knowing who Bunny was) exclaimed, "Lord, these ICPA women come on strongly don't they" and Bunny said, "Yeah". The district inspector then asked Bunny what he thought of the ICPA and Bunny replied, "I'm the Federal Chairman". Ken McKinnon still has a red face every time he meets an ICPA lady.
The drift of population from the rural areas because of lack of educational opportunity led Bunny to instigate the formation of the Bollon Branch of the ICPA in 1971 and in that same remarked this morning, he helped formulate the first constitution - in those days things were fairly primitive, I can assure you! He was also Queensland President for seven years from 1971. In those seven years he was Vice President of the Federal body for three years and then Federal President for the other three years. During those seven years his travels took him far and wide throughout Australia and his work for ICPA was immeasurable. He has attended 13 Federal Conferences and 37 Executive Meetings. ICPA grew into a strong and sophisticated organisation under Bunny's leadership, and he also laid the foundations for the excellent relationship which we now have with the Commonwealth Department of Education.
Perhaps the scene where Bunny has left his indelible mark for ICPA was in communications. When, as Federal President in Bourke in 1973, he spoke about a domestic satellite, I, for one, thought he was very 'way out', for we couldn't even spell satellite, let alone understand what it meant. Bunny's foresight into the satellite area drew ICPA into the forum on the ground floor. Today we are recognised as the body which knows more about the potential use and benefits of the satellite than any other in Australia, which is the way it should be, because we are the ones who stand to gain the most benefits. Had it not been for Bunny we would have been left floundering with politicians and technocrats to swallow what they served up to us. Instead, we are able to argue our case and put before the powers that be, a coherent plan of priorities in educational services which we see necessary and possible for isolated children.
Bunny was a strict President, and he had a way of making one feel small if he/she did not measure up to expectations. I remember an incident in Perth in 1977. Sue Broad had organised the publicity magnificently and we were inundated with publicity. In order to keep the influx of journalists at bay, I grabbed an Agenda and put it in front of an inexperienced reporter saying, "The next two motions will tell you what we are on about this morning. "The first motion called for remedial services and the second one dealt with mail services. The next morning - there it was - headlines in the Perth paper; "ICPA calls for remedial mail services". I sneaked into the Federal Executive meeting hoping that the Federal President hadn't seen me or the morning paper and hid behind Jim Warner for some time. As we were breaking for lunch, Bunny, in a very stern voice, said, "Why does ICPA call for remedial mail services, we've already got them?" I apologise to any mail contractors who might be here today. 
All of my previous case history makes Bunny sound like a tough guy, but he has a great sense of humour and when the work was over there was no greater song and dance man than Bunny. He burnt the candle at both ends, and still does, (by the look of him last night), and was well known in the days of the stomp and for his renditions of Charlie Pride's "Crystal Chandeliers". He was a colourful character - Bunny, I mean - not Charlie Pride.' and he was a great believer in the social side of the Conference activities because he said, "Our big problems are often solved in the relaxed atmosphere of social talk rather than in the strained and nervous air of the Conference room", and he is right. I think he learned that lesson from the West Australian girls in Broken Hill in 1976. As Publicity Officer, I worked with Bunny for six years and his patience and help to me in those years was great. I had never had anything to do with the media, journalism or radio, nor had I spoken into microphone. Bunny taught me to handle interviews, pacify pushy reporters, go on TV, present cases to politicians, and produce the ICPA Newsletter four times per year. Our last joint contribution to ICPA was the first edition of 'Pedals' in 1981. We met in Cunnamulla, which is half-way between Bollon and Enngonia. Bunny's youngest son, Ian, amused himself with a cousin on the banks of the Warrego, while our daughter, Kate, did her correspondence lessons at the end of a long table in the Cunnamulla RSL Club. All day we cut and shut and re-arranged and racked our brains for a name for the new magazine. I did not like the name he eventually came up with, but 'Pedals' it was, and now I cannot imagine any better title, and ICPA is becoming more famous because of it.
Bunny was a tough negotiator and when criteria for Life Membership was determined at a Federal Executive meeting, Bunny insisted on the most stringent set of rules.
That Life Membership had to be scarce.

That it must not be granted to a member of Council.

That it must be a secret and unanimous vote of all executive members.
At that rate, Life Membership is very difficult to obtain. One vote against you rules you ineligible, and Bunny's toughness, frankness and idealism did cause him to tread on some corns. Being a good Federal Executive member is not easy and being a good Federal President or Secretary is even harder, for we do not always agree. Representatives from each State do not and cannot always see eye to eye and compromises have to be worked out, but the unanimous vote for Life Membership for Bunny proves what a great calibre of Federal Councillors you members have elected to represent you. I am most gratified that Federal members are able to get above any personal differences and vote accordingly. This calibre of persons, I believe, is the strength of our association. Bunny will be the first person in ICPA to be honoured with Life Membership at State and Federal level - he and Eileen are both Life Members of Queensland. It is an appropriate tribute to Bunny that he has passed the very test that he himself helped to set up. In January 1976, ICPA was overjoyed to learn that in the New Year's Honours list, Bunny had been made a Member of the British Empire for his dedicated and valuable service to the community and local government. Eight years later, Bunny, we are here celebrating your addition to another honour list. It is not quite as high as the Queens, but it is the greatest and most prestigious honour that ICPA can bestow, on any citizen and I would like you to come forward and receive your Life Membership Badge.