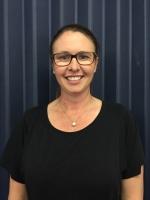 State position:
Branch:
Portfolios:
Background:
Jill grew up on a farm near Millicent in the South East.  She went to the local Primary School and High School and then went to Boarding school for Year 11 and 12 in Adelaide.  After this she completed a Bachelor of Primary Teacher at the Magill Campus.  Jill ventured north to Governess for a year where she met her husband Col Greenfield.  They later married and settled on Billa Kalina Station, a family owned and run property in the North West of SA.  
Jill and Col have 3 daughterswhome she has taught and employed governesses over their years of Primary Education.  They completed this through School of the Air Port Augusta.  Their youngest daughter is completing Year 12 in Adelaide at boarding school, their middle daughter is studying a Bachelor of Business and their eldest daughter is studying an Agri Business Degree.
Jill keeps herself busy by cooking for staff and the property, hand the businesses bookwork, volunteering on different local organisations and enjoys watching her children and husband ride at local gymkhana's, campdrafts and Bronco Brandings. 
She held the position of secretary for North West Branch for 17 years and was made a Life Member of the North West Branch.
Jill was re-elected to State Council in 2016.  She has previously been on State Council from 2008 until 2011.  Jill has held the positions of State Vice President (1 Year) and State Treasurer (3 years).