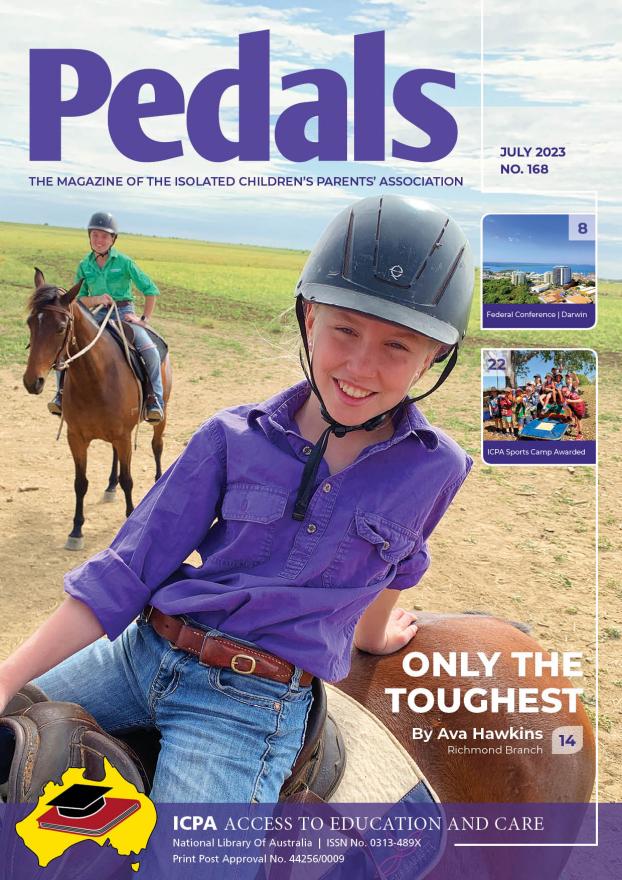 Pedals Magazine - July 2023 Edition
Hello Readers,  
As this edition lands in your letterboxes, the federal council and the federal conference committee will be bringing together their final preparations for federal conference. I'm very excited to be heading to Darwin to participate in the excitement and activity of ICPA Australia's biggest annual event and see many faces I haven't seen in nearly 12 months. There is always something inspiring about being in a room full of people who are passionate about the same things you are – and that's exactly what federal conference is all about. If you are heading to federal conference, I look forward to seeing you there.  
In light of the upcoming AGM, I would like to farewell Alana Moller as Federal President and thank her for her contribution and service as leader of ICPA Australia. I know that I am not the only one who has been profoundly impacted by Alana's leadership (she's the one who was willing to give me - a teacher from the Gold Coast with no previous editing experience, but with a great love for advocating for rural education - a chance at taking on Pedals Magazine) and while I know that she's not going anywhere, this milestone deserves to be publicly celebrated. Grab your tissues, you might need them as you read her final president's report – I know I did!  
Like every issue, this edition of Pedals is full of insightful information, heartfelt stories and proof that even the tiniest ripple of action can create a wave of change. What I particularly like about this issue is it features pieces from some ICPA Kids! Magenta Williams (age 9) has written a book review (page 30) and Ava Hawkins (age 13) has submitted a poem about outback life (page 14). If you know an ICPA child who has a talent for writing, recipe creating, or would like to recount a significant event for Pedals magazine, please get in touch.  
This issue is quite special for me and our publisher, Tracey Dewell, as it marks our first 12 months at the helm. I would like to take this opportunity to publicly thank Tracey for her patience, professionalism and mentorship over the last 12 months and I know I speak on behalf of both of us when I say that we look forward to bringing you all many more issues of Pedals. With that, thank you to everyone who has contributed to this edition. As always, I am grateful to those who have taken the time to source, write and supply content.  
Until next time,
HANNAH CALCINO
PEDALS DEADLINES
for editorial and advertising
15th August 2023 for October 2023 issue
15th November 2023 for January 2024 issue
15th February 2024 for April 2024 issue
15th May 2024 for July 2024 issue
Material for Pedals can be forwarded to the editor at any time. Please send photos as separate jpeg files.
For further enquiries contact: -
Editor
Hannah Calcino
4/7 Ryecroft Street
Carrara Qld  4211
Ph: 0448 840 344
Email:PedalsEditor@icpa.com.au
Publisher & Advertising Contact 
Tracey Dewell
17 Doon Terrace
Jamestown  SA  5491
Ph: 0427 881 104
Email:info@traceydewelldesigns.com.au

Subscriptions
Tracey Dewell
17 Doon Terrace
Jamestown  SA  5491
Ph: 0427 881 104
Email: info@traceydewelldesigns.com.au