Pedals Magazine - July 2021 Edition
Welcome to the July 2021 edition of Pedals magazine
A bumper pre Conference edition of Pedals has now made its way to all members across Australia.  
ICPA Federal President Alana Moller gives a run down on Federal Council happenings in her President's Report.  
The very first Life Member of the Charters
Towers ICPA Branch has been awarded to the most deserving Kim Donaldson after 20 years of dedicated volunteering for her Branch.
Katherine ICPA Branch has successfully held its fifth year of Sports Camp, with 90 children from rural and remote NT trying their hand at a range of sports.
This year Alice Springs School of the Air, the world's
first ever School of the Air, is marking a significant milestone - its 70th Anniversary,
Deadline for the October 2021 edition is 15 August 2021.
Thanks for reading
Raelene Hall
Editor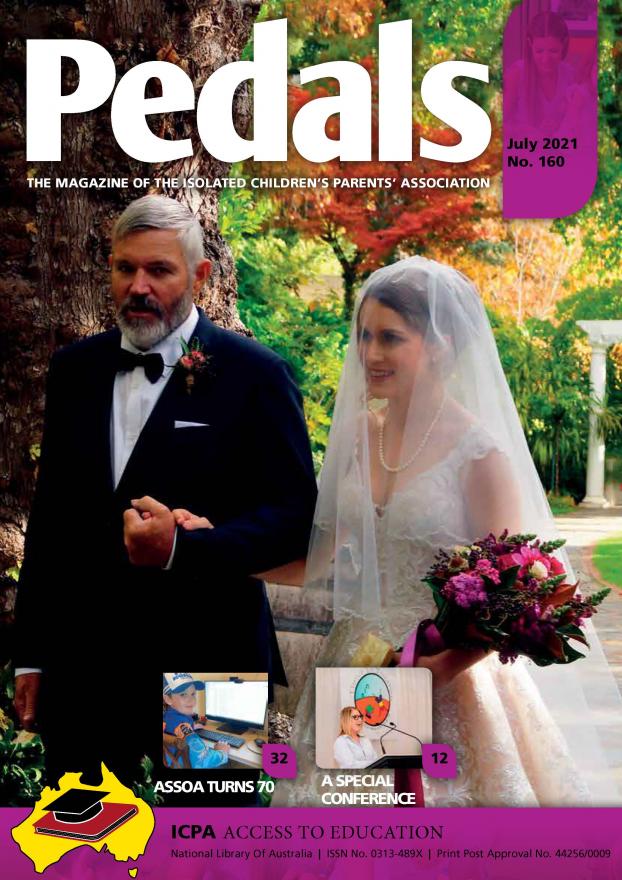 PEDALS DEADLINES
for editorial and advertising

15th November 2021 for January 2022 issue
15th February 2022 for April 2022 issue
15th May 2022 for July 2022 issue
15th August 2022 for October 2022 issue
Material for Pedals can be forwarded to the editor at any time. Please send photos as separate jpeg files.
For further enquiries contact: -
Editor
Mrs Raelene Hall
Neds Creek Stn
Meekatharra Stn WA 6642
Ph: (08) 9981 - 2969
Fax: (08) 9981 - 2969
Email: PedalsEditor@icpa.com.au
     Publisher & Advertising Contact 
Mrs Raelene Hall
Neds Creek Stn
Meekatharra Stn WA 6642
Ph: (08) 9981 - 2969
Fax: (08) 9981 - 2969
Email: nedscreek1@bigpond.com
Subscriptions
Mrs Raelene Hall
Neds Creek Stn
Meekatharra Stn WA 6642
Ph: (08) 9981 - 2969
Fax: (08) 9981 - 2969
Email: nedscreek1@bigpond.com