Pedals Magazine - April 2022 Edition
Welcome to the April 2022 edition of Pedals magazine
So much happening right across Australia in our rural and remote areas.  Grab a cuppa and have a read of the latest Pedals.
ICPA Federal President Alana Moller gives a run down on Federal Council happenings in her President's Report. 
Deadline for the July 2022 edition is 15 May 2022.
Thanks for reading
Raelene Hall
Editor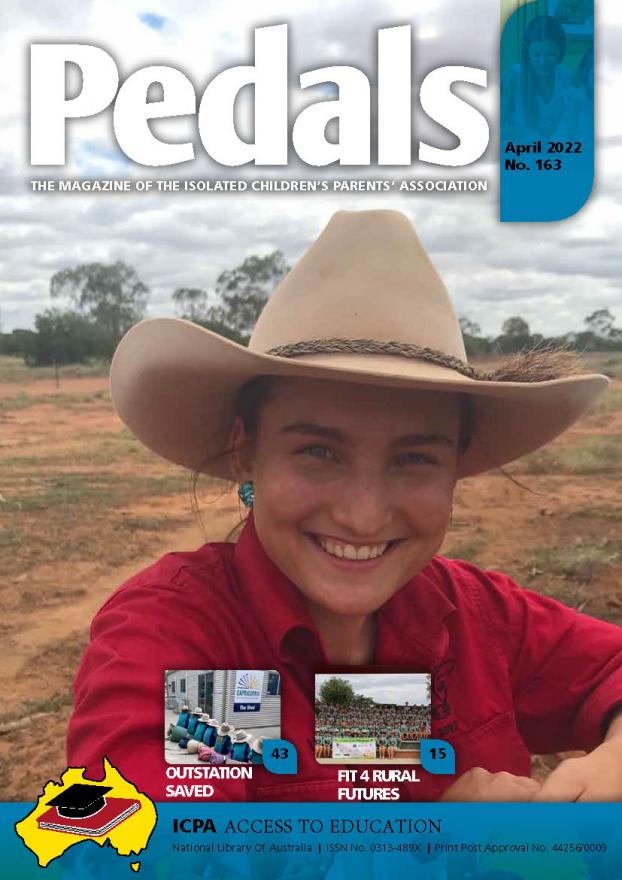 PEDALS DEADLINES
for editorial and advertising
15th May 2022 for July 2022 issue
15th August 2022 for October 2022 issue
15th November 2022 for January 2023 issue
15th February 2023 for April 2023 issue
Material for Pedals can be forwarded to the editor at any time. Please send photos as separate jpeg files.
For further enquiries contact: -
Editor
Mrs Raelene Hall
Neds Creek Stn
Meekatharra WA 6642
Ph: (08) 9981 - 2969
Fax: (08) 9981 - 2969
Email: PedalsEditor@icpa.com.au
Publisher & Advertising Contact 
Mrs Raelene Hall
Neds Creek Stn
Meekatharra WA 6642
Ph: (08) 9981 - 2969
Fax: (08) 9981 - 2969
Email: nedscreek1@bigpond.com
Subscriptions
Mrs Raelene Hall
Neds Creek Stn
Meekatharra WA 6642
Ph: (08) 9981 - 2969
Fax: (08) 9981 - 2969
Email: nedscreek1@bigpond.com