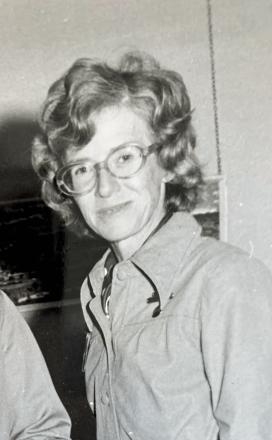 Background:
Member of the Order of the British Empire
Federal Council
Secretary                                         02 Oct 1971 – 11 Oct 1972
Assistant Secretary                         11 Oct 1972 – 23 July 1976
Secretary                                         23 July 1976 – 14 June 1977
Committee                                       20 Jun 1978 – 16 July 1980
NSW State Council
Committee                                      30 April 1981 - Oct 1981
ICPA Awards
1977            Presented with ICPA Aust Life Membership at Bourke NSW on 11 October.
1985            Presented with ICPA NSW State Life Membership April.
                    Branch Life Membership
Other Distinctions
1979            Awarded an MBE "For Service to the Education of Children in Remote Areas".
About Pat Edgley MBE
In the history of Australian settlement few efforts or innovations have generated an ever-expanding result that can be justly claimed to be immeasurable.
The Isolated Children's Parents' Association stands as a tribute to the tenacity of Pat.
In her mind there was never any doubt that it would succeed, and every obstacle was only there to be overcome.
In 1971, there was extreme hardship in the Western Division of NSW due to depressed wool prices. Pat Edgley placed an advertisement in the Bourke paper asking parents of children in the country to attend a meeting.
She was concerned because the Bourke hostel was being threatened with closure and this combined with a depressed rural economy meant that some students were being withdrawn from school, thus ending their education. In broader terms isolated children were not being afforded equal opportunity in gaining access to education.
It was very poorly attended but Pat was determined, and she lobbied her lady friends to insist their husbands attend the next meeting. There were approximately fifty people at the second meeting.
The Bourke branch of what was later to become the Isolated Children's Parents' Association was formed and the word spread all over Australia.
When the Federal Council was formed later that year Pat was elected Secretary.
Pat organised the first deputation to Canberra and Sydney. Pat, Wally Mitchell, Bob Ridge, Norma and Ralph Ireson took their case for an allowance for students from isolated areas to gain access to their education. They visited the Federal Minister for Education, Hon Sir David Fairburn KBE, DFC and the State Minister for Education, Hon Charles Cutler MLA. Following extensive lobbying, including submission writing and gathering statistics, the Assistance for Isolated Children Scheme (AIC) was eventually established.
Council staff, telephone exchanges, mailmen, gestetner crankers, ABC radio announcers all became cogs in a machine that gathered momentum at an amazing rate................within ten months there were 81 branches of ICPA stretching from Cohen to Carnarvon. Travelling with Pat was in itself educational and there was no end to the reams of indecipherable notes and clippings in a wide variety of containers and condition.
Small setbacks never were counted such as the initial car journey to the National capital getting underway at daylight and demolishing a rather large sheep at the first ramp.
A senior cabinet minister once considered in a respectful tone that Pat was "an abrasive little biddy" ...........And her methods of facilitating assistance in any project were both innovative and endless.... She certainly wore away obstacles and opposition. Pat was tenacious and always had the last say.
Pat Edgley MBE was born in 1931 and was a geographically isolated child living out of Walgett in NSW. It was during the Depression Years and there were no buses, sealed roads and no High School.
Her early schooling was by correspondence lessons from Black Friars, Sydney which in NSW was the only school offering those educational facilities in those years. Secondary schooling was at Abbotsleigh Boarding College, Sydney where she achieved her Leaving Certificate and Matriculation.
Pat gained a Commonwealth Scholarship to study Physiotherapy at Sydney University and Royal Prince Alfred Hospital. After graduation, she worked as a physiotherapist at Tamworth, overseas and in Sydney.
She married Peter in 1961 and lived first in Cobar and then moved to Bourke for 35 years before selling out in 1995 and retiring to Sydney and Dubbo.
Pat and Peter had three children who did their Primary Schooling by Correspondence, Sydney, SOTA Broken Hill and Bourke Primary school where they stayed at the then Bourke Hostel and Pat also helped out as a physiotherapist at the Bourke Hospital when taking the children in and out of town. Pat has been a mother, teacher and an "on the Farm" assistant to Peter during those years.
This strength has helped her in her latter life to battle rheumatoid arthritis as well as maintain her involvement with ICPA. 
Pat Edgley was known affectionately as the "Mother of ICPA".
She was awarded Life Membership of ICPA (Aust), ICPA NSW and Bourke Branch. She retired from Federal Council in 1979 and was awarded an MBE for her services to the Education of Isolated Children in the same year.
Two generations of isolated children owe much of their educational opportunities to this small woman with enormous foresight and sense of fairness.
The families who grouped together to turn the tide of educational disadvantage now collectively honour her drive and determination which made it all possible.
Pat Edgley can now look down proudly on the progress of future generations of outback people, the real genesis of Australia; bred in a tough environment to survive and now educated to succeed.
The achievements of isolated children will always be a living memorial to her vision and determination.
"And we have hearts to do and dare. And yet o'er all the rest the hearts that made the nation were The Women of the West" - George Essex Evans, 1863 – 1909
(Source: Vale of Pat Edgley MBE. Pedals No. 96 July 2005)