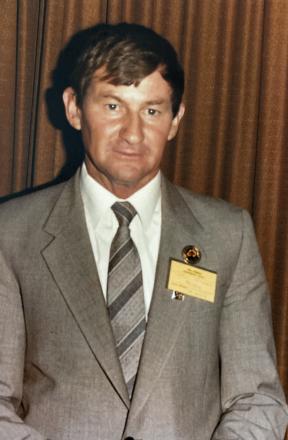 Background:
Member of the Order of Australia
Federal Council
Foundation President                                 02 Oct 1971 – 20 Jul 1974
Immediate Past President                          20 July 1974 – 14 Jun 1977
Committee                                                  12 July 1979 – 30 July 1981
NSW State Council 
Vice President                                             30 April 1981 - Oct 1981       
Bourke Branch
President                                                     1981 – 1982
ICPA Awards
1975                                                 Presented ICPA Australia Life Membership at the Federal Conference in Charleville on 18 April.
About Wally Mitchell AM 
On 2 October 1971, 69 people from 17 Branches of the ICPA (10 from NSW, 5 from Qld and 2 from SA) met in Bourke, NSW and decided to form a Federal Council of ICPA. Mr Wally Mitchell AM, President of the Bourke Branch, was elected President of the Foundation Executive of the ICPA.
At this meeting, the newly formed Association listed ten difficulties experienced by isolated children. They determined that the alleviation of these would be the platform of ICPA throughout Australia and would remain so until the majority of the objectives had been totally or partially achieved. The first Federal Conference was held six months later on 15 April 1972. By this time, there were 43 ICPA branches in Australia.
It is interesting to note that the idea of the AIC Scheme (Assistance for Isolated Children) was born on the grassy edges of the Oakey (Qld) Airport. Malcolm Fraser (the Federal Education Minister) and Alan Fletcher (Qld Education Minister) met with members of the Federal Council to discuss the State and Federal Government's responsibilities to the children of the "outback". From these discussions, the AIC Scheme was born.
Much of the representation made by ICPA to governments in the early days was concerned with the withdrawal of children from hostels and boarding schools. Disappointment came early to ICPA when Federal Cabinet rejected, at the eleventh hour, the proposal from the Federal Education Minister the Hon Malcolm Fraser for the inclusion of assistance in the 1972 Budget. 1973 saw a change in the Federal Government and ICPA President Wally Mitchell, with fellow councillors Geoff Green and Bunny Powne, headed to Canberra to meet with the new Minister for Education, the Hon Kim Beazley Snr on his 22nd day in office.
The delegation was advised by Mr Beazley that the envisaged scheme was meeting with opposition from six Cabinet Ministers and that they should be visited and the need for the scheme fully expanded. A week later, on 17 January 1973, the Assistance for Isolated Children (AIC) Scheme was introduced. This has to be ICPA's greatest achievement.
Wally Mitchell remained President until 19 July 1974, retiring at the Federal Conference in Bourke. In 1975, at the Federal Conference in Charleville, Wally was honoured with Life Membership of Federal ICPA.