Published:
Monday, 4 April 2022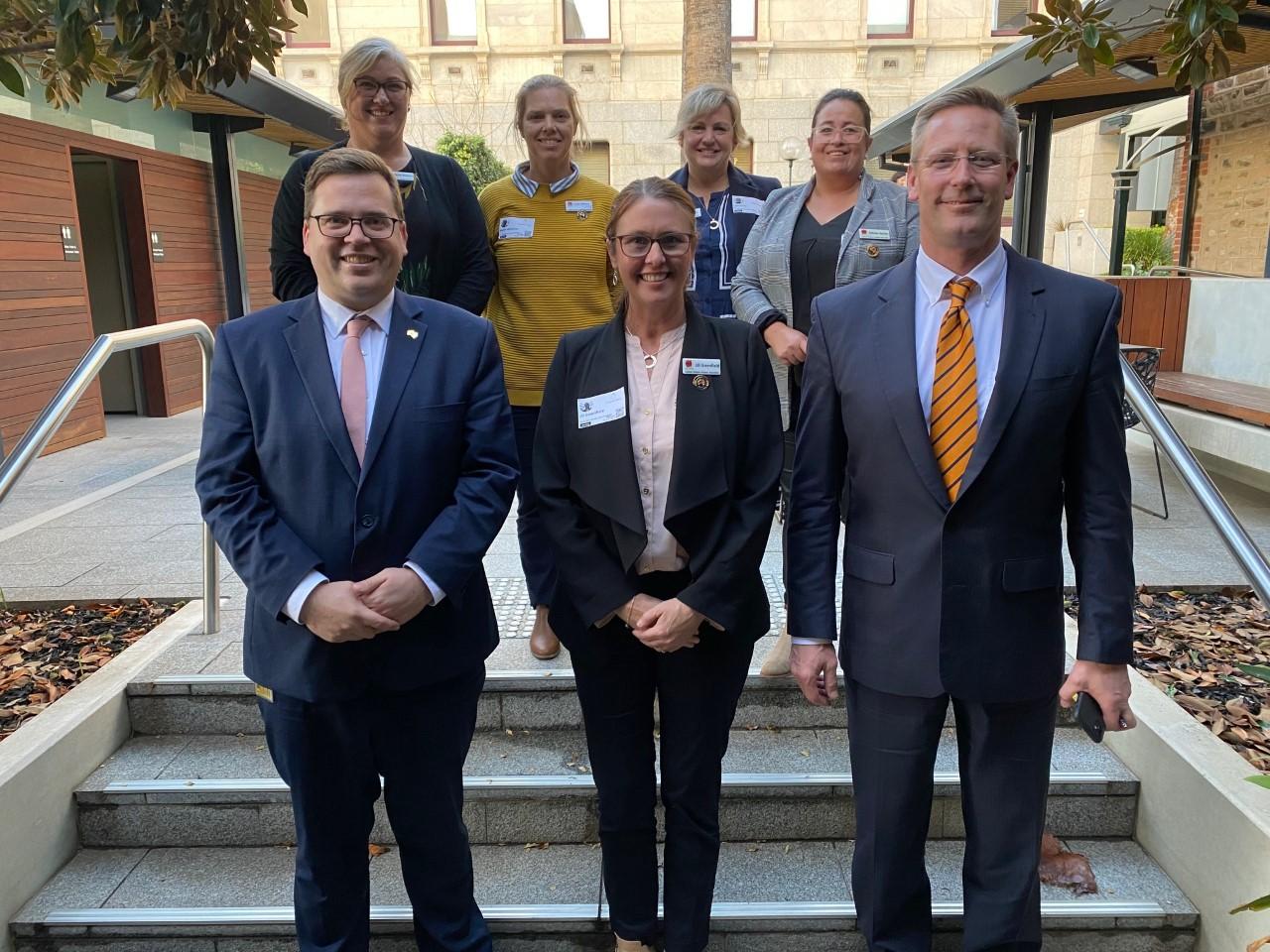 On Wednesday 23rd July Jill Greenfield, Belinda Hatcher and myself attended our first meeting of Delegation. We met with Michele Walter and Alison Amber from Livestock SA. It was an informal meeting where we recognised that we have many of the same members and interests. We discussed data sharing, the State Budget, health concerns, mobile phone services and the primary industry sector. It was interesting to hear that a government survey indicated a large need to get agriculture into high schools, especially in the metro areas.
Wednesday evening, we were lucky enough to be invited to Parliament House for dinner by the Honourable Dan van Holst Pellekaan MP. Jill and Belinda along with their daughters Anna and Lilly and I enjoyed a lovely meal and a guided tour of Parliament House.
Thursday morning Jill, Belinda and I were joined by Lisa Slade to meet Tracey Corcoran and Helen Robinson at Child and Family Health Services (CaFHS) and we also spoke to Cathy Sumner via tele-link in Port Lincoln. We expressed our families' concerns and shared some case studies. We stressed the need for a one stop shop that covers everything and how important face-to-face connections are with new mothers. CaFHS took on board what we had to say and we look forward to hearing back from them later this month when we meet again.
Kerry Williams was in attendance for our second meeting of the day at the Education Department when we met with Nigel Huxtable and Ross Wait. We had a number of items on the agenda which included the Distance Education Teaching Allowance (DETA), transition of year 7 to high school at School of the Air (SOTA), budget funding, early intervention to learning and the Education Department's 10-year plan to improve educational outcomes.
Unfortunately, our next meeting with Telstra was cancelled so together we had a good chance for a long lunch and debrief, time to discuss the meetings we had already attended and to plan for the next.
Our last meeting was at Parliament House with the Education Minister.  Dan van Holst Pellekaan kindly met us and escorted us to meet Minister John Gardner and his senior advisor Gary Costello. This meeting was to the point and a great way to raise our concerns and questions. Our president Jill did a wonderful job addressing our motion letters and getting some answers. Year 7 transition to high school, Special Education portfolio, Early Intervention and the DETA Allowance were amongst the things we discussed. We had positive discussions regarding all areas and we look forward to working with Minister Gardner to move forward with our members issues. We had time for a quick selfie with the Minister before he had to rush off.
This was my first delegation and I really enjoyed the chance to attend these meetings and get more of an insight into the ICPA workings. ICPA is such a great organisation that has a voice people listen to and respect. I feel fortunate that I got to attend with such passionate and knowledgeable members. Jill, Lisa, Belinda and Kerry they all know their stuff in depth, and I was just a little bit out of my league!!
Hollie Williams