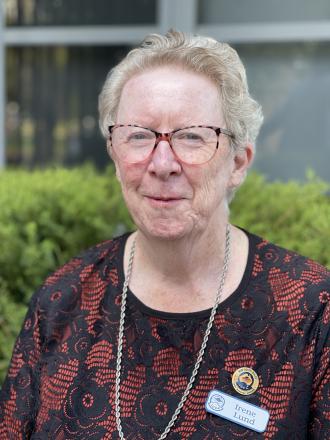 State position:
Branch:
Portfolios:
Mentor for:
Background:
Irene has been involved in education most of her  life. Both parents were primary school teachers and her early life was spent in one teacher schools in rural NSW before she later moved to Sydney.  Irene trained as a Maths teacher and after marrying Andrew, they moved to Canberra and now have three children and four grandchildren.
When their youngest child was 6, Irene returned to teaching and spent 20 years teaching Maths in mostly Year 11/12 colleges as well as some time in the central office.  Andrew and Irene retired in 2007 and 2008 and became volunteers with Outback Links, the volunteer arm of Frontier Services.  Together they have completed a number of placements, mostly in Queensland but also in WA, doing such things as property sitting, schoolroom help, general domestic duties and general property duties.
It was on one of their early placements that Irene discovered a pile of 'Pedals' magazines and was introduced to ICPA.  On subsequent placements with different families Irene heard about involvement in ICPA and in 2012 was challenged to join.  In 2016 Irene became NSW/Vic Lone Members' Officer and in 2018 also took on the role of NSW Member ship officer. Irene is committed to equity in education for rural and remote children.